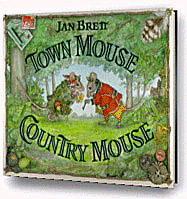 Piggybacks for Teachers
General Activities
Download the character masks from http://www.janbrett.com/mouse_masks_main.htm
Use the masks for Reader's Theater or a class play to video tape. Take turns sending the tape home for families to view.
On the pasta page. Find the puzzle of the writing in the border pasta.

Use pasta to make a picture or a math pattern.
Social Studies and Writing Activities
Write a story where your trade your home to a home in Norway, Japan, Africa or Russia.

Write a sequel with the cat and owl trading places.