Gingerbread Baby Animals
You can print these masks and use them for a play.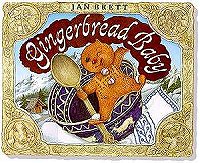 This is a great project to use with my book The Gingerbread Baby

These files are quite large and download slowly, but I hope that you'll be pleased by the quality.
Click on each animal to display the full sized mask artwork.
"I am the Gingerbread Baby
fresh from the pan.
If you want me
catch me if you can."

"Sniff, sniff, Gingerbread!
Sniff, Sniff, Gingerbread!
I'll try and find you now.
I'll track you through the snow,
Bow Wow Wow!

"Thumpity, thumpity what do we feel?
That Gingerbread Baby would make a good meal
(Clippity clop, clippity clop)
- with wood blocks."

The Mountain Dog
Click here for PDF

Gingerbread Baby you're as
naughty as can be.
First you tweaked my masters' nose
now you run away from me.
Woof, Woof Woof!

"Smack, smack, I'm licking my chops
I'm a fox and I'm fast, I'll catch you at last!"
Grrrrrr."

"Meow, meow, meow
I twitch my tail and my whiskers too,
Gingerbread Baby, I'm going to catch you"

"I tossed the baby high, and he jumped right
on my snout, Oink, Oink, Oink
a cookie with bad manners, what's this all about?
Gingerbread Baby, come back!
Gingerbread Baby, come back!