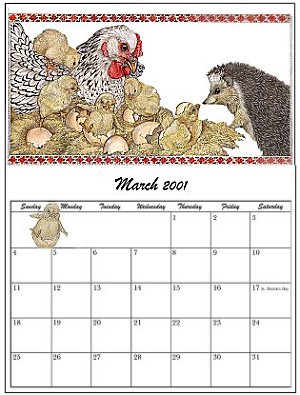 It's easy! Just download the twelve artwork pages and the twelve monthly grids.
Tape each month's artwork and grid together, trim the edges, and either tape or spiral bind the top.
You can print out each page on a standard printer and then tape the artwork and the grid together to form the finished calendar which measures 10 x 16 inches after you trim the edges. All of the artwork and grids are in portrait mode (this is the standard printer mode).
The artwork is also available in PDF format. Click on the link under the artwork for a PDF version. This is a clearer and larger version of the calendar.
You may want to read the Help with Printing file first for some hints.
These files are rather large and may take a while to download, but I hope that you'll be pleased with the quality.