Activities
Jan Brett on Facebook
Send Jan an email letter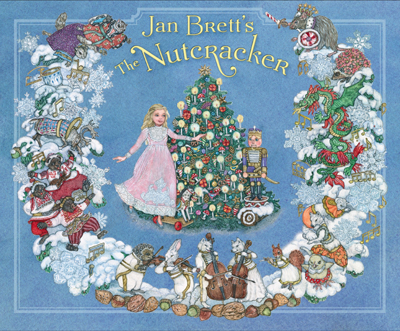 The Nutcracker
My new version of THE NUTCRACKER will be published this coming November. I'm thrilled to give you an inside preview of my new book. Of the many hours I have spent listening to music in Symphony Hall in Boston, Tchaikovsky's The Nutcracker brings the most vivid imaginings, together with a wish that every child could experience the transporting, fantastical music.
With E. T. A. Hoffmann's 1816 story The Nutcracker and the Mouse King and happy memories of the Nutcracker ballet as my guide, this book is my visualization of Tchaikovsky's enchanted music. From the 'Overture in Miniature' during the Christmas Eve party, the 'March' that leads to the battle against the wicked Mouse King, the string of dances through the Land of Sweets, and all the way to the 'Waltz of the Flowers' at the end, the music's ebbs and flows inspired fanciful scenes for the beloved characters that Marie and the Nutcracker meet throughout their journey. The music also reminds me of trips to Saint Petersburg, so a Russian setting seemed perfect. The borders star animals playing the instruments you'll hear in each of the movements in The Nutcracker. I especially like imagining the bassoon sounding like a puffing dragon.
I hope this book transports readers through magical sights and sounds as the music of The Nutcracker Suite does for me.