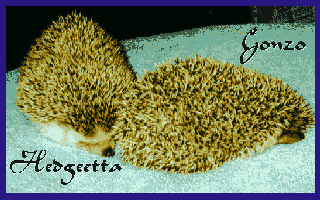 Hedgeetta had hoglets on Friday, September 25, in the early evening. This was exactly 33 days from the first visit with Gonzo. As far as we can tell there are three hoglets. It is very important that you do not disturb the sow (Hedgeetta) or the hoglets (the babies) in anyway. Only clean the waste out of the cage and do not remove or clean the pine shavings. Just make sure that there is plenty of fresh water and food for her. If they are disturbed or threatened then they might be harmed by the mother. As of now. we have not handled the hoglets or taken pictures. As soon as we can we will be posting pictures of the young hoglets. This won't be until a few more weeks.
---

If you would like to ask any
questions about having a hedgehog
as a classroom pet,
E-mail Mrs. Bruner's classroom at
jbruner@loogootee.k12.in.us.
---
---
Thank you for visiting!
Created 9-1-98-Last Updated 9-5-1998
E-mail comments to phale@loogootee.k12.in.us
Please visit the Elementary West Homepage