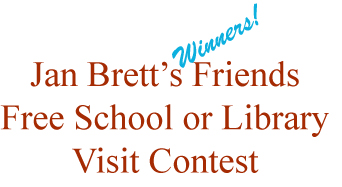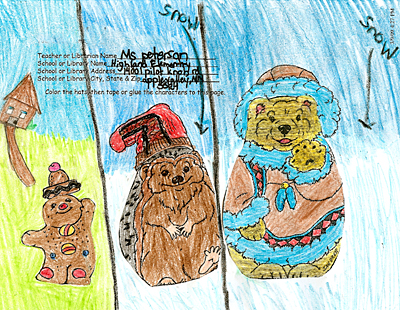 Click Here
for a special Congratulations Certificate.
PDF Version
Congratulations to Grand Prize winner Wendy Pedersen's students from the Highland Elementary School in Apple Valley, Minnesota! I'm looking forward to visiting Wendy's school.
Here are the winners of the 20 free books and the 80 free posters. I'll be mailing everyone their books and posters in a week.
Free Book Winners
Ms. Nancy Bybel's Class, Myersville Elementary School, Myersville, MD, 21773
Mrs. Dulchinos' Class, Cold Spring School, Belchertown, MA, 01007-9401
Ms. Diane Dulworth's Class, St Charles Elementary School, Saint Charles, MI, 48655-1257
Ms. Debbie Eisinger's Class, Petway Elementary School, Vineland, NJ, 08361-6601
Mrs. Freeman's Class, Saco Public School, Saco, MT, 59261-0298
Mrs. Garrison's Class, Marrs Elementary School, Skiatook, OK, 74070-2015
Mrs. Nicole Jett's Class, Norwood Elementary School, Oliver Springs, TN, 37840-2015
Ms. Johnson's Class, Norwalk-Ontario-Wilton Elementary School, Ontario, WI, 54651-7607
Ms. Joy Kooyer's Class, Maplewood Elementary School, Holland, MI, 49423-9305
Ms. Stacy Labruyere's Class, Nichols Sawmill Elementary School, Magnolia, TX, 77355-3189
Mrs. McCormick's Class, Montgomery Elementary School, Montgomery, PA, 17752-1135
Ms. Nancy McCrea's Class, North-West Central School, Plenty, Saskatchewan, , CANADA S0L 2R0
Mrs. McLaughlin's Class, Rolling Ridge Elementary School, Erie, PA, 16510-2498
Ms. Sarah Nunnemacher's Class, Davis Hill Elementary School, Holden, MA, 01520-1300
Ms. Nancy Poalillo's Students, Maywood Memorial School, Maywood, NJ, 07607-1699
Mrs. Sines & Ms. Polk's Class, Our Lady Of Lourdes School, Daytona Beach, FL, 32118-3699
Mrs. Becky Spiker's Class, Charleroi Elementary Center, Charleroi, PA, 15022-2280
Mr. Shawn Tiani's Class, Beach Elementary School, Round Lake Beach, IL, 60073-1918
Mrs. Mairead Troy's Class, Mathewson Elementary School, Milford, CT, 06461-1999
Mrs. Kathleen Vagell's Class, Hamilton Terrace School, Berkeley Heights, NJ, 07922-2599
Free Poster Winners
Mr. Jon Allen's Class, Joamie School, Iqaluit Nu, , CANADA X0A 0H0
Mrs. Anderson's Class, Winslow Elementary School, Henrietta, Ny, 14467
Mrs. Ankney's Class, Central School, Rochelle, IL, 61068-1400
Mrs. Baker's Class, Hunter Street Elementary School, York, SC, 29745-7430
Mrs. Bascom's Class, Erie Elementary Charter School, Chicago, IL, 60622-3422
Mrs. Basile's Class, Manhattan Public Library District, Manhattan, Il, 60442
Ms. Amanda Beauchamp's Class, Pinckney Elementary School, Pinckney, MI, 48169-9626
Ms. Lois Beaven's Class, Terry Fox Elementary School, Bathurst Nb, , CANADA E2A 6N1
Mrs. Bellinger's Class, South End School, Plantsville, CT, 06479-1896
Mrs. Bennett's Class, Wenonah Elementary School, Wenonah, NJ, 08090-2199
Ms. Bennett's Class, Bethel Elementary School, Simpsonville, SC, 29681-5999
Mrs. Bryant & Mrs. Jackson's Class, Shirley Hills Elementary School, Warner Robins, GA, 31088-5399
Mrs. Tonya Bulas' Class, Cayuga Heights Elementary School, Depew, NY, 14043-4535
Ms. Butler's Class, Shawsheen Elementary School, Wilmington, MA, 01887-1699
Ms. Callahan's Class, R L Meinders Primary Learning Center, Manahawkin, NJ, 08050-2807
Mrs. Canwell's Class, Lincoln-Hancock Elementary School, Quincy, MA, 02169-4930
Ms. Casey & Ms. Illig's Class, Springville Elementary School, Springville, NY, 14141-8901
Mrs. Cheek & Mrs. Rokosh's Class, Parkview Elementary School, Sicamous, Bc, , CANADA V0E 2V0
Ms. Sue Ciccarelli's Class, Landmark Academy, Commerce City, CO, 80022-6236
Ms. Melissa Cossaboom's Class, West Riverview Elementary School, Riverview Nb, , CANADA E1B 3K6
Ms. Linda Cowen's Class, Roosevelt Elementary School, Norman, OK, 73072-1779
Mrs. Demott's Class, Jordan Bank School, Oxford, PA, 19363-1816
Ms. April Dillon's Class, Hemphill County Library, Canadian, Tx, 79014
Ms. Ebright's Class, Slate Hill Elementary School, Worthington, OH, 43085-5881
Ms. Susan Ellermets' Class, First Baptist Church School, Danville, IL, 61832-3050
Ms. Etrata's Class, Natoma Station Elementary School, Folsom, CA, 95630-8012
Ms. Evans' Class, Lewiston-Porter Primary Education Center, Youngstown, NY, 14174-9609
Ms. Laura Fite, Four Oaks Elementary School, Four Oaks, Nc, 27524
Ms. Diann Fortune's Class, Southern Pines Primary, Southern Pines, NC, 28387-4699
Ms. Stacey Galles' Class, Remsen-Union Community School, Remsen, IA, 51050-7737
Ms. Pat Genovese's Class, Notre Dame Academy Elementary School, Los Angeles, CA, 90064-4219
Mrs. Barbara Graham's Class, Gurney Elementary School, Chagrin Falls, Oh, 44022
Ms. Denise Grahn's Class, Troy Little Red Schoolhouse, North Troy, Vt, 05859
Ms. Sharon Gresham's Class, Grace Academy Of Georgetown, Georgetown, TX, 78627-5005
Ms. Jennifer Groulx-Walsh's Class, New Liskeard Public School, New Liskeard Ontario, , CANADA P0J 1P0
Mrs. Hahn's Class, Rolling Acres Elementary School, Littlestown, Pa, 17340
Ms. Kimberly Hall's Class, South Shaver Elementary School, Pasadena, TX, 77502-3654
Mrs. Denise Hoff's Class, Immaculate Conception School, Watertown, SD, 57201-3634
Mrs. Holm's Class, Incline Elementary School, Incline Village, NV, 89451-9448
Ms. Amy Hufana's Class, Cape May County Special Services Dist, Cape May Court House, NJ, 08210-1651
Ms. Linda Jensen's Class, Taylor Mountain Elementary School, Santa Rosa, CA, 95407-2764
Ms. Cheryl Johnson's Class, Middlesex Elementary School, Baltimore, MD, 21221-1399
Ms. Kosowski's Class, Wood Acres Elementary School, Bethesda, MD, 20816-3403
Mrs. Laird's Class, Keith Elementary School, Cypress, TX, 77433-6122
Ms. Langford's Class, Grenfell Elementary School, Grenfall Sk, , CANADA S0G 2B0
Ms. Cindy Lewis' Class, Villa Cresta Elementary School, Baltimore, MD, 21234-5523
Ms. Beth Liggett's Class, Oak View Elementary, Fairfax, VA, 22032-2699
Ms. Lowman's Class, Sunset Ridge Elementary School, Overland Park, KS, 66221-2273
Ms. Jamie Marquis' Class, Delaware Christian School, Delaware, OH, 43015-2630
Ms. Sara McGowan's Class, Medtronic Child Care Center, Fridley, MN, 55432-5609
Ms. McGrath's Class, Walton School, Wakefield, MA, 01880-1568
Ms. Meredith's Class, Friends School Mullica Hill, Mullica Hill, NJ, 08062-9541
Mrs. Meyer's Class, Grace Lutheran School, Oak Creek, WI, 53154-3333
Ms. Kimberly Newman's Class, Hawthorne Elementary School, Hawthorne, NY, 10532-1799
Mrs. Peterson's Class, Wilton Elementary School, Wilton, IA, 52778-9509
Mrs. Rackliffe's Class, Amvet Boulevard Elementary School, North Attleboro, MA, 02760-1429
Mrs. Joann Ramsey's Class, Frances K Sweet Magnet School, Fort Pierce, FL, 34950-2199
Ms. Carol Reynolds-Teeters' Class, Algood School, Cookeville, TN, 38506-4935
Ms. Susan Richardson's Class, Sunnyside School, Red Wing, Mn, 55066
Mrs. Rutter's Class, Tuscano Elementary School, Phoenix, AZ, 85043-7504
Ms. Jackie Sakatch's Class, Dr George Ferguson School, Regina Sk, , CANADA S4N 0J8
Ms. Nicole Santos' Class, Veterans Park Elementary School, Ludlow, MA, 01056-2599
Ms. Sbailo's Class, R L Meinders Primary Learning Center, Manahawkin, NJ, 08050-2807
Mrs. Schlageter's Class, Leoville Central School, Leoville, Sk, , CANADA S0J 1N0
Mrs. April Sims' Class, Altruria Elementary School, Bartlett, TN, 38134-3849
Mrs. Singletary's Class, Bradley Elementary School, Bradley, AR, 71826-8875
Ms. Cori Smith's Class, Ginther School, Brockport, NY, 14420-2228
Ms. Karen Sparkes' Class, Bishop's Academy At Holy Family, Syracuse, Ny, 13219
Ms. Sharon Stewart, B. Elizabeth Strong Memorial Library, Turin, NY, 13473-0027
Ms. Mona Sumioka's Class, Todd Elementary School, Corona, CA, 92883-3166
Mrs. Sylvain's Class, Freetown Elementary School, East Freetown, Ma, 02717
Mrs. Talmont's Class, Lenoir City Elementary School, Lenoir City, TN, 37771-2080
Ms. Shawna Thomas, Alex Aitken Elementary School, Duncan, Bc, , CANADA V9L 4L2
Mr. Vievering's Class, Transfiguration School, Oakdale, MN, 55128-4201
Ms. Karyn Walsh's Class, Sacred Heart School, Hattiesburg, MS, 39401-3515
Ms. Jane Webster's Class, Piggott Elementary School, Piggott, AR, 72454-2911
Ms. Wells' Class, Oakcrest Elementary School, Pensacola, Fl, 32505
Ms. Denise Wilson's Class, South Scotland Elementary School, Laurinburg, Nc, 28352
Ms. Andra Wollenberg's Class, Northview Elementary School, Manhattan, KS, 66502-4499
Ms. Angela Yach's Class, Foster Elementary School, Appleton, WI, 54915-1515